I'm going to quickly describe how to add associated website to a YouTube video annotation. This will allow you to link to applicable content on a site you OWN via the annotation.
What you need before you add the associated website to your YouTube video annotation:
Here's how to add associated website to a YouTube video annotation
Enable monetization of your channel: In YouTube click your top right avatar and then "Creator Studio:"

In the left nav click "Channel," then "Status and features." To the right of "Monetization" click "enable."

Follow instructions through the terms of service.
Go back to "Channel," "Status and features."
In the screen shot above the top right "verify" will now have "Partner" next to it. Click "verify"
Follow the steps to verify via two factor authentication (it'll call or text you a pin)
Your status will now read as "Partner Verified"
Add your associated website: Again, this website MUST be verified to the same accounts Google Webmaster Tools account. Click "Channel" then "Advanced." find the "Associated website" section and paste your link. Click verify. If done right, it'll say so:
Now we add the YouTube annotation with the associated website: In the "Creator Studio" area go to "Video Manger" and click "edit" next to the video you want to add the annotation.
Click on "Annotations" toward the top right of the screen. A blue bar will appear at the top of your screen saying Enable your account for external annotation links. Click "enable."
Important, you need to save then publish and exit out of your video and go right back. There is a bug and you'll get an "invalid URL" error later if you don't exit and come back after enabling.
Hit the add annotation dropdown. Tick the "link" box and hit the drop down next to it to select "Associated Website." Paste the page on your site below. Save and Publish and you're done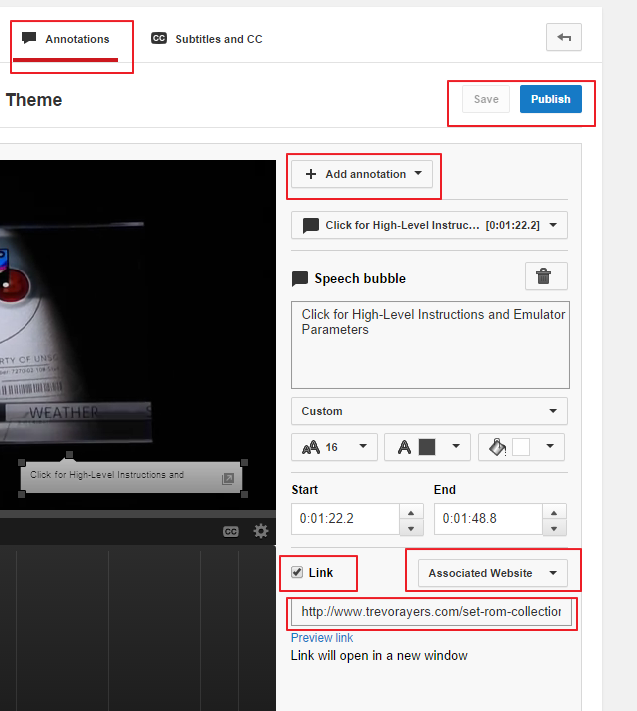 That's how to add an associated website to YouTube video annotation.