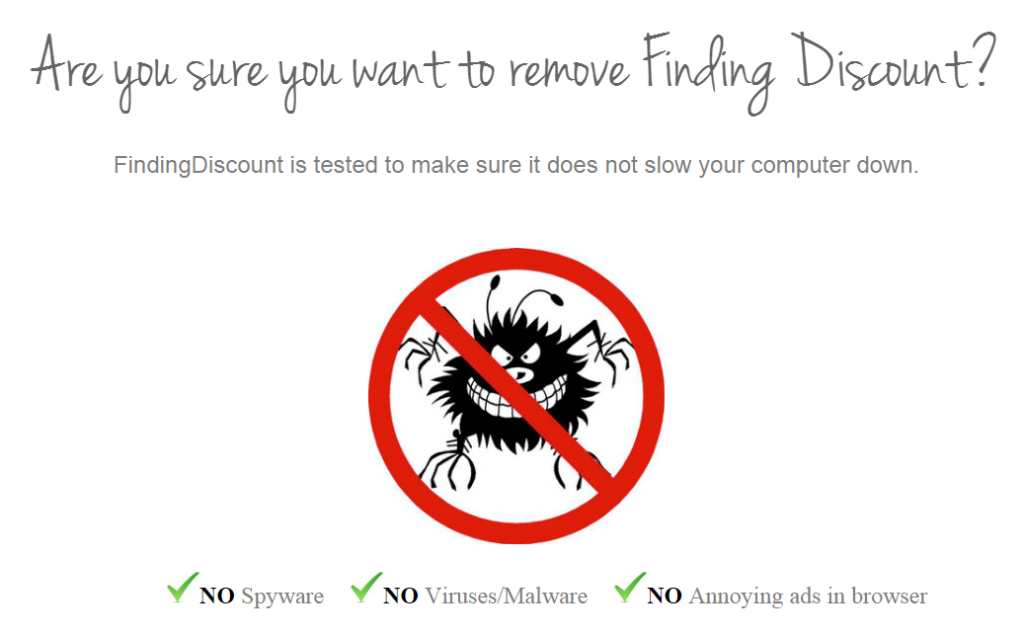 This walk through on how to remove Finding Discount from Windows will be effective at removing most adware and malware. Finding Discount, or findingdiscount.exe, was a particularly annoying piece of adware for me due to embedding so many registry files and polluting my machine and browsers.
How Did You Get Finding Discount on Your Machine?
When downloading other software you did want Finding Discount was bundled. Always avoid blindly clicking "next" while installing an application. Also, always choose custom installation to avoid adware and malware such as Finding Discount being installed on your machine. If you want an example of bundled malware grab anything from CNet.
What is Finding Discount?
Finding Discount is simply something you do not want on your machine. It's labeled as a PUP or potentially unwanted program. You do NOT want this program on your machine. It will use computer resources, embed unwanted ads in Internet Explorer, Chrome and Firefox adjusting browser proxy settings to do so opening your computer up to larger security risks. These are standard adware symptoms, but one annoying symptom of FindingDiscount.exe was that it would open up Internet Explorer during any task on the machine.
Other notes on Finding Discount:
Finding Discount will show as a running service in Task Manager
A Windows Discount folder will be created in your program files (86)
There will be a Finding Discount extension for IE, Chrome and Firefox
You cannot uninstall because it will shoot you to a link I will not share here
*Don't take any action on the link Finding Discount uninstall sends you to
My traditional antivirus scans overlooked this due to it being a "PUP"
Do You Have Finding Discount on Your Machine?
Well, yes or you wouldn't be burning time looking into it. To be certain, however, hit your Windows key and type in "uninstall a program" and click on the applicable result. Sort by date added or name and look for Finding Discount:

How to Remove Finding Discount From Windows
I personally only was able to fully rid my machine of Finding Discount with the manual approach, but I first recommend you run a couple trusted tools to rid your machine of other potential unwanted programs. I recommend the manual approach in any scenario.
Free Recommended Tool to Scan for AdWare, Malware and Viruses:
Download the below tool and run a free scan. It's intuitive, so just follow the instructions. It'll show you what was flagged for your review before deleting.
There are numerous other options, but this delivered the best results for me.
Manually Removing FindingDiscount.exe From Your Machine:
*You need to be an administrator on your machine
1. We're going to edit registry files, so create a Windows restore point as an overly cautious precaution.
2. Restart your computer and boot into safe mode. The link has more details, but basically you reboot your machine and after your bios splash screen (if one) and right before your Windows startup screen hit the "f8" key. You'll be greeted with a black screen and white font. Click "start in safe mode." Don't click "repair Windows."
3. Check your services in Task Manager to ensure Finding Discount is not running. This pesky program will present issues if running. The MalwareBytes process took care of this for me, but it's good to check. Hit alt+shift+escape or otherwise get to your task manager and go to the "services" tab. Sort by name and look to make sure "Finding Discount" isn't there. If so, right click and try to stop or remove it: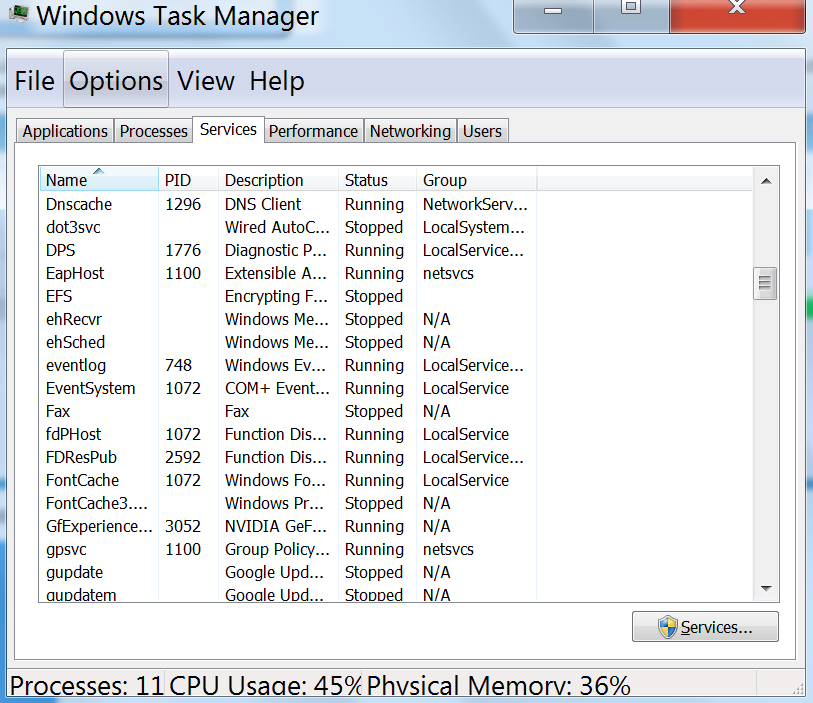 * note that mine above was clean after the MalwareBytes scan, but Finding Discount was still on my machine, so move forward
4. Open your registry editor. Hit your windows key and search for "regedit." Click on regedit.exe. Click "yes" on the following prompt.
5. Perform a search for keywords in your virus. Go to Edit > Find or hit ctrl+f. For my Finding discount headache I did two searches. "Discount" and "Finding." You may also look at the company name under your uninstall programs dialogue and search for that as well.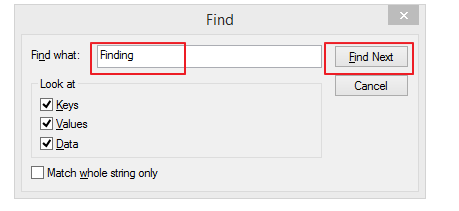 6. Review what is found to ensure it's your virus and right click on it and click delete. Keep clicking "next" and deleting your virus files until nothing returns.
7. Restart your computer as normal and it will boot into normal Windows mode.
8. Finding Discount should be gone. To be sure, hit your windows key and search for "uninstall a program" and click the applicable link. Make sure that it's not there.
9. Double check Internet Explorer, Chrome and Firefox's addons and homepages to ensure there 's nothing left of Finding Discount. I recommend manually checking these and not resetting your browsers to defaults because MalwareBytes cleaned all this Finding Discount Nonsense up for me. Below is a quick overview on how to check homepages and addons in IE, Chrome and Firefox. Just make sure the homepage is what you want and that you don't see any unknown addons.
Internet Explorer:
Gear Icon (top right) > Manage Addons > Ensure No Finding Discount Nonsense
Gear Icon (top right) > Internet Options > Set Your Homepage
Chrome:
Three bars in top right > Settings > Extensions > Ensure No Finding Discount Nonsense
Three bars in top right > Settings > Under "appearance" make sure "show home button" is either not checked or set to something you want
Firefox:
ctrl+shift+a > Ensure No Finding Discount Nonsense
Set homepage:
Open a tab with the web page you want to use as your home page.
Drag and drop that tab onto the Home button .
Click Yes to set this page as your home page.
That's how to remove Finding Discount from Windows. The crawl tool alone didn't work, so I thought I'd detail my successful journey.